LB2 compressors SERIES
Air-cooled condensing units - AC fans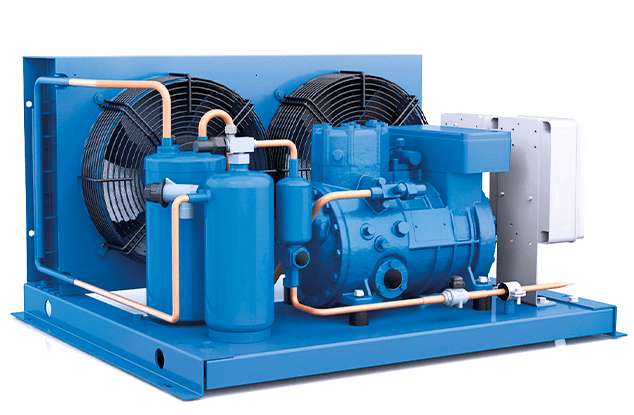 The LB2 Series of air-cooled condensing units are specifically designed for moderate climates and offer the perfect solution for a variety of applications within commercial refrigeration.
Frascold provides a diverse range of LB2 air-cooled condensing units to meet the unique demands of commercial refrigeration applications operating in moderate climates. These units feature an innovative, compact design making them ideal for smaller spaces and/or urban environments, where the noise level needs to be diminished.
The LB2 air-cooled condensing units are the perfect choice to use in a variety of cooling systems such as cold rooms, grocery stores, retail, distribution centers, industrial, and also process cooling for food production and storage.
Features
Advantages
Reliability Designed to Impress
Within our state-of-the-art design and manufacturing facilities each Frascold LB2 condensing unit is assembled utilizing the most technologically advanced processes and components available. Each and every unit that comes off our line is also rigorously tested to ensure exceptionally high levels of quality and reliability. Clients have the option of further increasing reliability by adding a protection system that utilizes Diagnose® technology. This advanced system spots and prevents minor issues before they become major headaches.
Exceptionally Quiet
Our LB2 Series of condensing units will quietly make a name for themselves as they are exceedingly quiet by way of an innovative combination of the external structure, mechanical components, and an electric motor. These units can be easily installed in dense urban areas and in close proximity to their intended use, helping reduce the potential for pressure drops.
Less Consumption Means More Energy Savings
The LB2 air-cooled condensing units make achieving high efficiency look easy thanks to the brilliant design of Frascold semi-hermetic compressors and the incredibly accurate sizing of all the components used.
Easier to Install and Maintain Than Ever
With a cutting-edge design structure, installing LB2 air-cooled condensing units is quite straightforward and faster than ever. We've also engineered these systems for easy access to vital components to make future maintenance tasks a breeze.
Unwavering Customer Support
Frascold provides expert service from dedicated customer service agents who stand ready to assist our customers through any crisis that may arise. We utilize a direct support network, as well as service centers and support partners located across the globe.
Do you need a customized solution?
We are always available to advise you on the best refrigeration solution for your business. Talk to our experts
Technical Data
Performance and versatility
Are you an installer or a refrigeration technician?
Rely on our software to search for spare parts or find the ideal compressor for your application.