CO₂ compressors SERIES - Transcritical
Semi-hermetic reciprocating compressors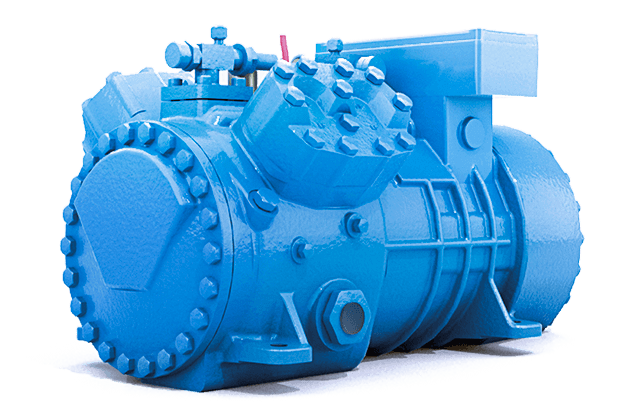 The CO2 - Transcritical Series of reciprocating compressors is perfectly suited to use with CO2 natural refrigerants. These units are designed to lessen environmental impact and create more opportunities for energy savings.
Highlights
CO2 - TRANSCRITICAL SERIES
Frascold's transcritical reciprocating compressors are designed to be used with CO2 natural refrigerants and offer the perfect solution for the commercial, industrial, transport, process cooling, and heat pump sectors. The models in this series are suitable for single-phase or integrated, booster and cascade systems and have been designed to withstand high plant downtime pressure. This helps provide ease of maintenance and a more efficient, less taxing start-up.
The particularly strong construction of the compressors allows them to operate with high operating delivery pressures of 140 bar(a) and a maximum plant downtime pressure (SSP) of 80 bar(a). Please note: models in the D and Z series operate with a delivery pressure of 100 bar(a).
This series has been developed in our state-of-the-art design and manufacturing facilities utilizing the most cutting-edge technologies available. The end result is extremely high-performing and safe units that can be depended on to get the job done.
Recommended applications
Distribution / Warehouses
Features
Advantages
Better Operating Range
This series of CO2 transcritical reciprocating compressors is convenient to use in a wide range of applications, providing a durable, safe, and efficient solution for operations in transcritical processes.
Higher Degree of Safety
The use of CO2 natural refrigerants creates enhanced safety features and ultimate reliability in one package. Non-flammable and chemically inert at low concentrations, they feature a very low GWP and lower air emissions to help lessen environmental impact.
Lower Oil Carryover
Frascold transcritical reciprocating compressors are designed to provide low oil carryover, minimizing the chance for leaks and providing higher degrees of protection and lubrication for all integral moving parts. This provides an optimal, high-quality operation, which ensures maximum efficiency and that the highest performance levels possible are consistently met.
High Standstill Pressure (SSP)
The high standstill pressure (SSP) of all the transcritical reciprocating compressors in the CO2 series allows the correct management of plant downtime pressure, making maintenance easier and providing a quick start-up without having to use active or passive systems.
Compact and Quiet Design
Frascold subcritical reciprocating compressors are unique in their relatively light design, space-saving dimensions, and overall quietness. These features allow these units to be used in many different applications, especially within smaller systems where space may be at a premium.
CapaFlex TM mechanical regulation
The CapaFlexTM capacity control system is exclusively available on Frascold compressors for transcritical applications. This advanced technology helps regulate the flow rate transfer of CO2 refrigerants through suction inlets. The alternating periods of opening and closing of the suction inlets allow proper partialisation of the compressor, providing for more optimal loads and preventing on-off cycles as much as possible.
Do you need a customized solution?
We are always available to advise you on the best refrigeration solution for your business. Talk to our experts
Technical Data
Performance and versatility
TRANSCRITICAL
@ Evap. T. 50°F - Gas cooler out T. +91,4°F - Gas cooler pressure 83,7 bar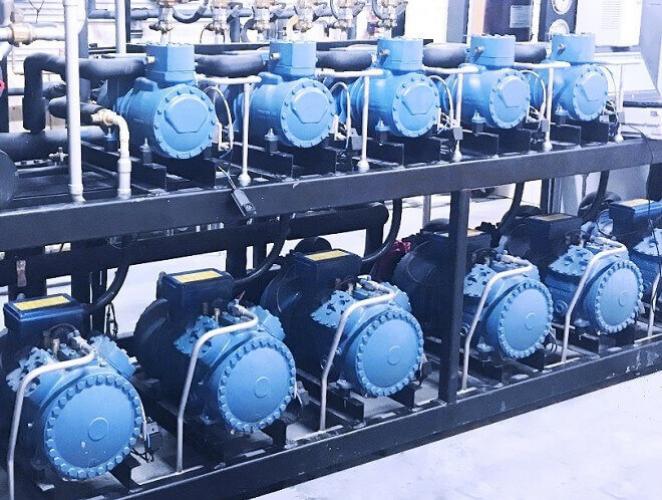 The first full transcritical CO2 industrial refrigeration system by Frascold is presented in Australia
Frascold contributed to the creation of the first full transcritical CO2 refrigeration system for industrial applications in Australia. Using Frascold compressors at the core of a wider installation, this project involved a local wholesaler in New South Wales. The project included the construction of a wing for the presentation and storage of fresh and frozen products, a meat processing area, a dedicated entrance for sales, and a loading-unloading area.
Are you an installer or a refrigeration technician?
Rely on our software to search for spare parts or find the ideal compressor for your application.