CX Air compressors SERIES - UL
Semi-hermetic compact screw compressors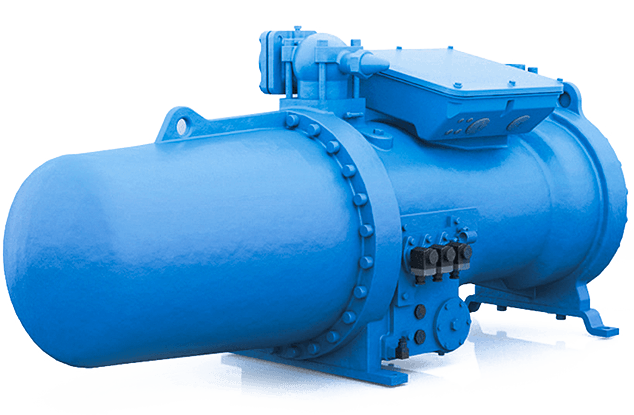 The Frascold CX Air, UL certified, series combines the greatest efficiency, reliability, and flexibility in a single compressor.
This series is the best choice for applications with high compression ratios, such as air-cooled units.
The CX Air series, UL certified, features compact screw compressors, which are excellent for various types of use. Developed by Frascold based on a careful design and thanks to the most sophisticated technologies, the series features excellent fluid dynamics and superior standards of safety, reliability, and quietness.
The capacity control of all the compressors in the series, obtained through the hydraulic movement of the slide valve, is a guarantee of outstanding efficiency under any load. The models in the series can, furthermore, operate with an economiser and with an external inverter, in favour of greater flexibility, efficiency, and energy savings.
The sophisticated 3-stage oil separation system ensures minimum oil carryover towards the system thereby maintaining an always optimal level of lubrication and a high operating efficiency.
Recommended applications
Schools / Offices / Banks
Features
Advantages
Low oil carryover
The sophisticated 3-stage oil separation system delivers increased protection and lubrication to all the compressor's moving parts thereby minimising the potential for leaks and ensuring outstanding, long-lasting operation.
High efficiency
The numerous possible configurations guarantee the greatest efficiency, both for design requirements (COP/EER) and for seasonal requirements (ESEER/IPLV). This has been made possible thanks to the optimised fluid dynamics and is the result of using the best design and manufacturing technologies.
Option of coupling with an inverter
The external variable frequency drive (VFD) provides a significant increase in efficiency under partial loads for all the CX Air compact screw compressors, UL certified.
Quietness
The extreme quietness and very low vibrations are the result of a detailed analysis and design of the rotors and the internal fluid dynamics of the compressors.
Easy installation and maintenance
The connections and control elements, laid out on just one side of the compressor, ease installation operations and simplify maintenance tasks over time.
Do you need a customized solution?
We are always available to advise you on the best refrigeration solution for your business. Talk to our experts
Technical Data
Performance and versatility
@Evap. T. +35,6°F - Cond. T. +122°F - Overheating 10K - Subcooling 5K
HFOs at medium temperature and the future of refrigeration
A renowned Italian corporation and leader in the confectionery market was looking for a flexible and efficient refrigeration system for its new large warehouse, able to guarantee the perfect preservation of its products and at the same time reduce its carbon footprint.
Size 0
Volumetric displacement
117,1 - 217,8 CFM
Motor power
37,3 - 89,5 kW
11 Available models
Size 5
Volumetric displacement
186,0 - 316,7 CFM
Motor power
82 - 134,2 kW
8 Available models
Size 9
Volumetric displacement
320,8 - 638,6 CFM
Motor power
119,3 - 231,2 kW
12 Available models
Are you an installer or a refrigeration technician?
Rely on our software to search for spare parts or find the ideal compressor for your application.