CX Water compressors SERIES - UL
Semi-Hermetic Compact Screw Compressors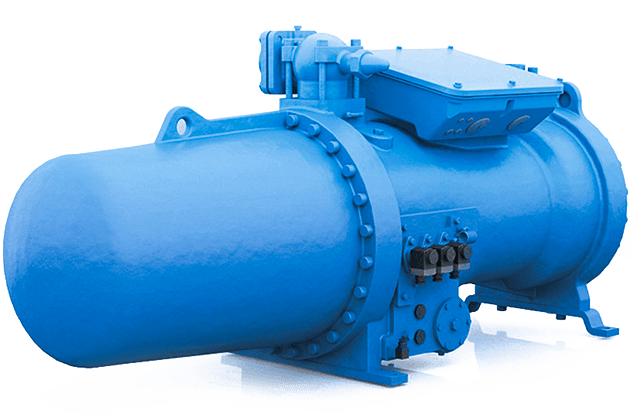 The Frascold CX Water Series - UL meet the stringent quality criteria required to bear the internationally recognized UL certification. The Series provides a powerful combination of energy efficiency, dependability, and flexibility all rolled into one stout unit.
This series is an excellent option for applications with low compression ratios, such as water-cooled units.
The CX Water Series of UL-certified compact screw compressors is made for low compression ratios and versatile enough to meet a number of different applications. Developed by the brilliant engineers working in Frascold R&D, these units feature excellent fluid dynamics and raise the bar for safety, reliability, and quiet operation.
The next-level capacity control of all the compressors in the series is obtained through the hydraulic movement of the slide valve which guarantees outstanding efficiency under any load. These compressors can also operate with an economizer and external inverter to provide a threefold increase in flexibility, efficiency, and energy savings.
Frascold's sophisticated 3-stage oil separation system ensures minimum oil carryover towards the system to maintain a consistently optimal level of lubrication and ensures high operating efficiency.
Recommended applications
Medical / Pharmaceutical Industry
Features
Advantages
Advanced Design with Low Oil Carryover
A highly advanced 3-stage separation system delivers increased protection and lubrication to all the compressor's moving parts. This minimizes any potential for leaks and ensures the units run great for as long as possible.
Greater Energy Efficiency
With so many possible configurations, the CX Water Series – UL compressors provide greater efficiency levels, both for design requirements (COP/EER) and for seasonal requirements (ESEER/IPLV). This breakthrough has been made possible with optimized fluid dynamics developed in our state-of-the-art design and manufacturing facilities.
Choice of Coupling With an Inverter
The external Variable Frequency Drive (VFD) provides a big boost in efficiency under partial loads for all the CX Water Series – UL compact screw compressors.
Whisper-Quiet Operation
The super-quiet operation and very low vibrations are the result of a detailed analysis and design of the rotors, as well as the internal fluid dynamics of the compressors.
Easier to Install, Easier to Maintain
Your install and maintenance crew will thank Frascold's engineers for the connections and control elements which are laid out on just one side of the compressor. This makes for supreme ease of installation and greatly simplifies necessary maintenance tasks over time.
Do you need a customized solution?
We are always available to advise you on the best refrigeration solution for your business. Talk to our experts
Technical Data
Performance and versatility
@ Evap. T. +37,4°F - Cond. T. +100,4°F - Overheating 1K - Subcooling 5K
Size 0
Volumetric displacement
117,1 - 217,8 CFM
Motor power
37,3 - 74,6 kW
11 Available models
Size 5
Volumetric displacement
251,9 - 316,7 CFM
Motor power
82 - 104,4 kW
5 Available models
Size 9
Volumetric displacement
364,9 - 638,6 CFM
Motor power
119,3 - 231,2 kW
11 Available models
Are you an installer or a refrigeration technician?
Rely on our software to search for spare parts or find the ideal compressor for your application.