FSS3 V1.14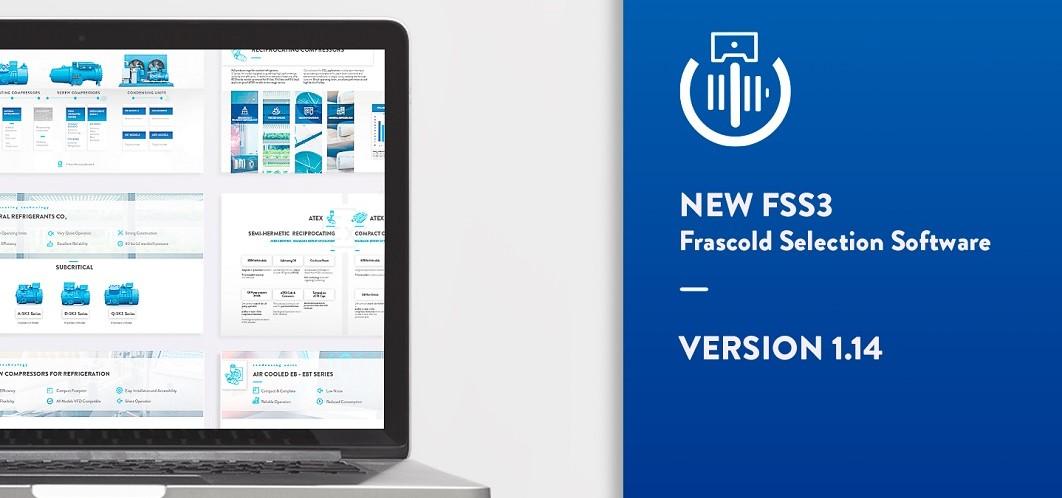 The new 1.14 version of Frascold Selection Software (FSS3) is now available.
Here below the new features of this update.
GLOBAL:
Added a link in the start screen to the updates introduced by the current version of the software. Also added the changelog of the latest versions of the software.
New connection management with a checkbox. If "Automatic" it chooses the DOL connection for A-Q and PWS connection for S-W. If unchecked, it leaves the connection previously selected unless it is not provided for the chosen compressor.
RECIPROCATING COMPRESSORS:
Added 208-230V/3ph/60Hz power supply for S-TK compressors.
SCREW COMPRESSORS:
New series of screw compressors for refrigeration FVR (from 120 to 160 m3/h @ 50 Hz).
New water oil cooler management with variable temperatures.
Added 380V/3ph/60Hz power supply for CX compressors.
CONDENSING UNITS:
Added Asercom certifications for EB-Q units with R448A, R449A and R452A.
CO2 CYCLE TOOLS:
Added the second medium temperature evaporating level (MT2) in the Seasonal Calculation, with the possibility of setting the minimum activation temperature of this level.
"High Pressure Control Strategy" section of the Seasonal Calculation updated: specified the meaning of temperature differences (in "info") and added the possibility to show/hide the high pressure control parameters (with a checkbox).
Added in the Seasonal Calculation the "info" button that explains the calculation of the "Piping Superheating".
Heat Recovery management of the Seasonal Calculation updated for all the available configurations.
Added a "warning" message in the Seasonal Calculation results if the frequency of the ECO compressors with VFD has been reduced to not exceed the MRA.