New electrical connection
Standard Reciprocating A-B-D-Q Compressors Series
Frascold presents features and advantages of the new electrical connection plate.
In order to continuously innovate and improve efficiency of our solutions, we have decided to introduce a new electrical connection plate for our Standard Reciprocating compressors of A, B, D, and Q series.
The main features of the new electrical connection plate are:
The pin diameter is the same of actual connection plate;
The new plate with M4 pin thread (same dimension of the previous version) allows direct connection of the power supply;
Distance between pins is enough to grant proper insulation, which has been successfully tested in our laboratory:

Insulation phase to ground (500 Volt, 1 sec,> 10 MΩ)
Dielectric strength (2xVn + 1000V, 1 min, <10mA).

The fixed terminal board is replaced with a mobile terminal board to simplify operations of wiring electrical cables.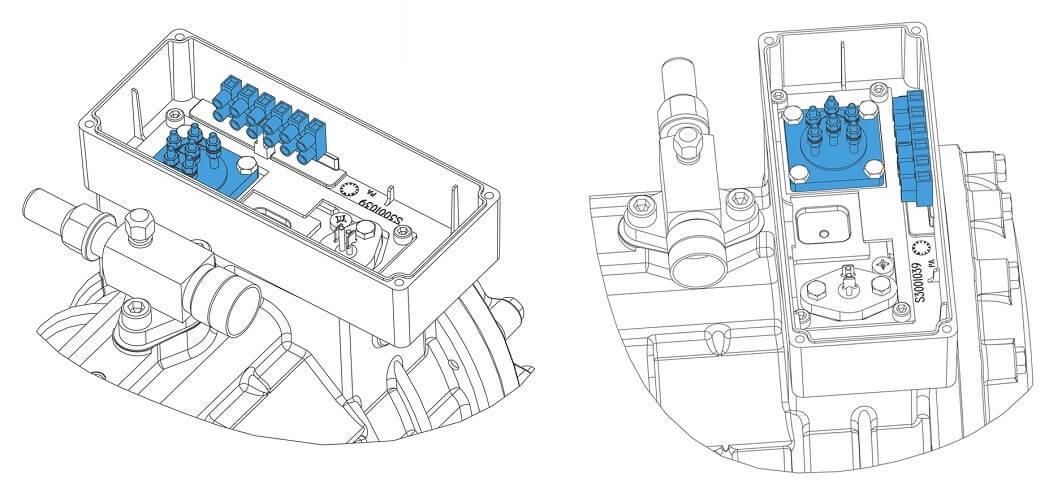 The main advantages of the new solution are:
The direct connection to the terminal block allows to avoid 4 junctions for each phase, avoiding the potential failure risk or wrong connection for each of them;
Easier to connect auxiliary cables removing the connection bar.