FVR compressors SERIES - LT
Semi-hermetic screw compressors - Low temperature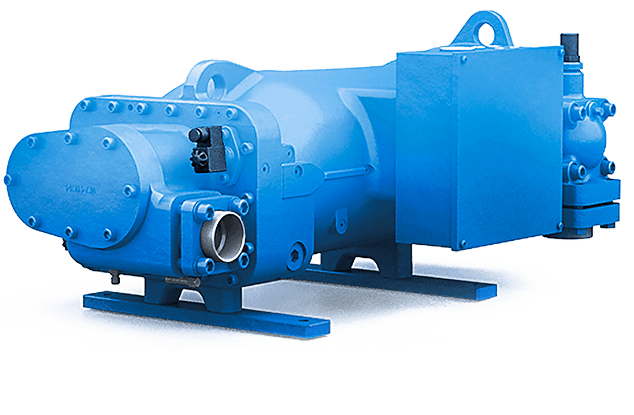 The FVR series was designed for low-temperature environments where space constraints and noise reduction are paramount. With a compact design that's easy to install, the FVR line of semi-hermetic screw compressors meets or exceeds the latest European regulations.
These compressors have been specifically designed to lessen environmental impact while promoting increased efficiency and reliability.
The innovative FVR series of semi-hermetic screw compressors made just for low temperatures is the result of hundreds of hours of intense design work from the Frascold R&D team. Our commitment remains in designing solutions that effectively meet the needs of markets with ever-increasing technological advancements; refrigeration in particular.
The FVR series is Variable Frequency Drive (VFD)-compatible for even greater flexibility and efficiency in operation. All FVR series models have a lower starting current compared to traditional compressors, which reduces the overall wear and tear on vital components and helps extend useful life.
Recommended applications
Distribution / Warehouses
Features
Advantages
Easy Installation and Maintenance
These are true plug-and-play solutions that stand out within this category for their ease of installation. The new piping discharge line simplifies both installation and maintenance with the particular position of the oil injection port, as well as the displacement of the endplate on the side of the machine. These design innovations also help provide easy access to each unit's wiring.
Universally-Compatible Connections
The connection points on the FVR semi-hermetic screw compressors have universal compatibility for easy adaptability to your current set-up. All the FVR compressors can be connected in parallel, even with different models, to guarantee the very highest flexibility of use. 
Improved Performance
With the FVR series, our engineers went back to the drawing board and redesigned these semi-hermetic screw compressors to have a coefficient of performance (COP) that is a full 5% higher compared to previous models.
Space-Saving Design
The compact design of the FVR semi-hermetic screw compressors guarantees greater cooling capacity within a smaller footprint, making them easier to fit in tight spaces.
Quiet Operation
One of the FVR semi-hermetic screw compressor's strong points is its quiet operation. This is achieved due to the unique screw profile.
Wide Range of Cooling Capacities
The large number of compressors in our FVR series offers the greatest degree of choice in finding the perfect model to achieve your operation's desired cooling capacity.
Do you need a customized solution?
We are always available to advise you on the best refrigeration solution for your business. Talk to our experts
Technical Data
Performance and versatility
LOW TEMPERATURE
@ -95/+104° F ECO
Are you an installer or a refrigeration technician?
Rely on our software to search for spare parts or find the ideal compressor for your application.