Reciprocating ATEX SERIES - HFO - HFC
Semi-hermetic reciprocating compressors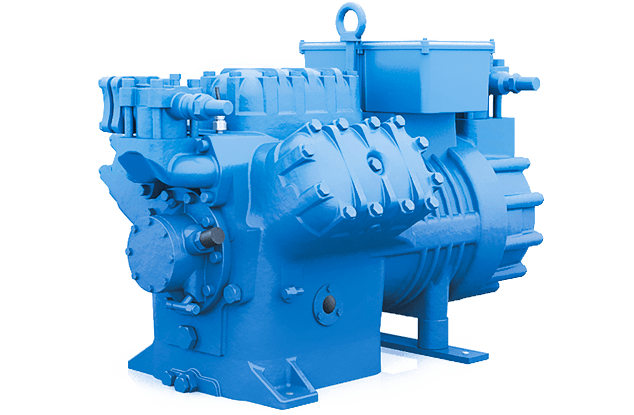 This Frascold series of reciprocating compressors is made for use with HFO and HFC refrigerants and meets the stringent standards for ATEX certification. Energy efficiency, dependability, and reduced noise are the hallmarks of these advanced systems.
Greater flexibility inside of smaller dimensions provides better performance across a wide range of temperature gradients.
RSH head capacity control
Highlights
Reciprocating ATEX Series - HFO – HFC
Our wide range of ATEX-certified reciprocating compressors are made to use with HFO and HFC refrigerants and is safe for use in areas classified as at risk of explosion (Zone 2).
The models in this series are suitable for operating with inverters and add value to your operations with higher efficiency and energy savings. Consistent high-performance levels are achieved through our meticulous quality assurance testing to ensure each unit makes the Frascold grade.
The D, Q, S, V, Z, and W models are all able to be coupled with our state-of-the-art capacity control RSH head which optimizes the cooling system, reduces energy consumption, and provides enhanced safety across longer periods.
Recommended applications
Theaters / Conference rooms / Hotels
Distribution / Warehouses
Features
Advantages
Wider Operating Ranges
These reciprocating compressors are designed to provide a wider operating range than ever which makes it easy to use a single model with both low and medium temperature applications.
Smaller Footprint
The compact design of Frascold's ATEX-certified reciprocating compressors means less space is required and affords greater installation flexibility.
Reduction in Noise Levels
Our brilliant engineers have achieved a perfect mechanical balance within these reciprocating compressors to provide both low vibration and reduced noise levels.
Cutting-Edge Capacity Control RSH Head
Our D, Q, S, V, Z, and W models of reciprocating compressors are made to be used with the technological breakthrough that is the RSH head designed by Frascold. The RSH system delivers capacity modulation by blocking the suction of the heads and utilizing an inverter.
Enhanced Levels of Protection
An advanced protection, diagnostic, and preventive maintenance system that uses Diagnose® technology offers functional monitoring and optimization of both the compressor and individual systems. This tool helps properly monitor the state of the cooling system, which also helps reduce future management and maintenance costs.
Simplified Risk Analysis Can Be Performed
With so many different ATEX-certified Frascold reciprocating compressors to perfectly meet our clients' needs, a simplified risk analysis can be done which is a requirement in many different locales. This provides safer deployment during each project phase including construction, installation, and operation. Compressors in the series are ATEX-certified for use in Category 3 (Zone 2: areas classified as potentially explosive) and also G (areas that are classified as potentially explosive due to gas).
Do you need a customized solution?
We are always available to advise you on the best refrigeration solution for your business. Talk to our experts
Are you an installer or a refrigeration technician?
Rely on our software to search for spare parts or find the ideal compressor for your application.