Frascold invests for an increasingly sustainable future
A further step toward environmental protection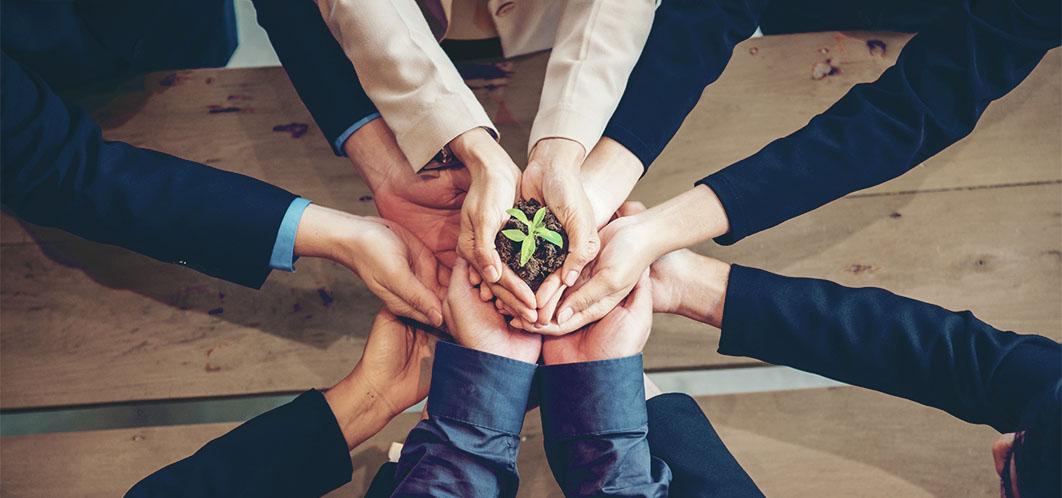 In a journey directed toward even more sustainable progress, Frascold strengthens and consolidates its devotion and commitment to it by incorporating an Environmental Management System that spans the entire value chain.
A shared vision at the international level, characterized by fair and sustainable progress, through which Frascold aims at limiting its ecological impact by enhancing its products and production processes. A structured and proactive approach, based on the identification and definition of precise corporate guidelines, operational planning and performance analysis, in full compliance with ESG requirements and with respect for the territory in which the company operates. 

"Environmental responsibility is a strategic and essential value for Frascold. Integrating environmental governance within its Quality management system represents an active pursuit of a responsible and conscious all-round development, in a long-term perspective," declares Giuseppe Galli, CEO of Frascold, who adds, "Frascold focuses its attention along the entire life cycle of its solutions, from conception and production, to the subsequent marketing and distribution, for the benefit of the supply chain as a whole. On the one hand, constant investment in R&D has enabled us to produce innovative and high-performance natural refrigerant compressors, placing the company at the forefront of international climate and energy goals. On the other, Frascold supports various projects aimed at increasing the well-being of its people and increasing the efficiency of the entire production plant."

In particular, at its Headquarters located in the province of Milan, Frascold encourages the introduction of technological processes capable of combining a lower carbon footprint and excellence in performance. Prominent among these processes is further refinement of the production chain according to Lean Manufacturing criteria, with the aim of reducing waste and optimizing processes and flow efficiency.
Starting with the assembly department, Frascold aims at standardizing and unifying operating procedures, correlating each specific line to the production of targeted series of compressors. An efficient set-up, achieved through a space specifically designed to facilitate easy retrieval and quick identification of all materials. Optimization interventions aimed at facilitating the daily work of operators also through the introduction of ergonomically adapted workstations, which offer advantages in terms of performance, effectiveness and safety.
Visual Management techniques have also been implemented within the warehouse and production areas, thanks to the introduction of specific containers that, once all their contents have been used, are sent back to the supplier for replenishment, thus halving the use of plastic and paper. A decision that respects the principles of the circular economy, which is combined with a lower consumption of natural resources, achieved thanks to the introduction of a distiller used to recycle the washing water used in the production plants, promoting the savings of an estimated 300m³ of water in one year, corresponding to 300,000 L.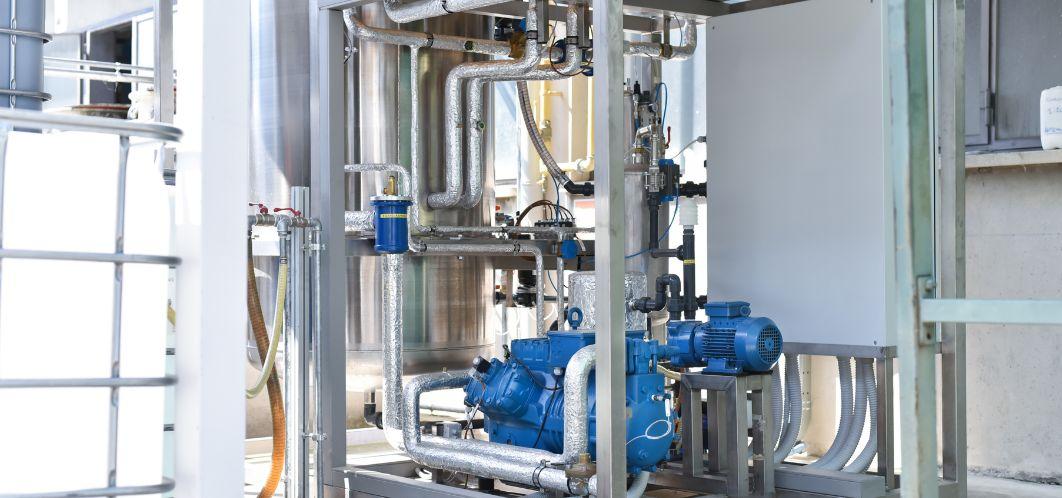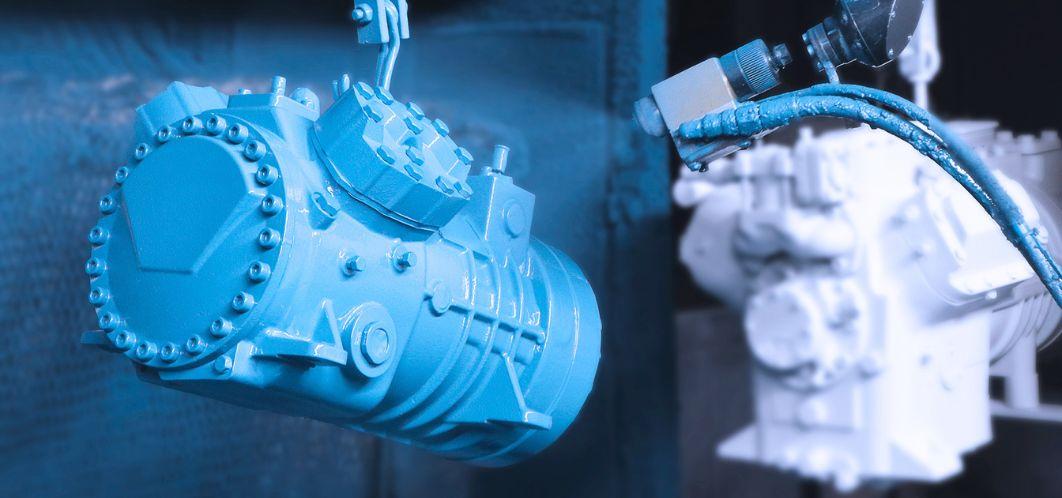 The company's Environmental Management System also translates into an increased focus on routine preventive maintenance. A concrete example of this is the new chiller with eco-friendly refrigerant, born out of the company's desire to further strengthen the yields and performance of the in-house test laboratory. It is a machine slaved to the refrigeration and operation of all test benches and calorimeters, featuring a refrigeration capacity of 350 kW and ATEX-certified compressors from the Magnetic series. Compared with a traditional model, this new chiller is guaranteed to save +20% in energy and, in addition, allows constant control of the solution, monitoring its absorption and total consumption, information that is essential for further endurance analysis by the technical department.
Finally, for Frascold, environmental protection is also manifested through careful rationalization in the use of energy resources, achieving considerable savings and a significant reduction in carbon emissions. During the year 2022, the company implemented a photovoltaic system, consisting of a total of 3,500 panels, which, exactly one year after its start-up and operation, has generated measurable benefits: a clean and renewable energy production of 1.5 GWh, a decrease equal to 600 tons of CO2, a coverage of total annual needs equal to 30%, and an average self-consumption that is 80% higher.
Tangible evidence of Frascold's strong focus on fostering an energy transition is also the program being developed for the coming months: the implementation of an innovative heat pump with Frascold compressors and natural fluid, used to cool and heat the entire building dedicated to offices. 
"At Frascold, the results we have achieved are the result of everyone's great commitment and their value is generated mainly by the way we have achieved them.  A distinctive element thanks to which we are recognized by our Customers as an absolutely transparent and reliable partner," states Franco Bonfiglio, Vice President of Frascold, who adds, "We firmly believe that, for an ethical and conscious management, it is essential to define roles of responsibility at every level of the organizational system, with the aim of providing staff with all the fundamental information they need to carry out their duties in full respect of the environment. For this reason, the promotion of a shared vision, capable of raising awareness and actively involving employees and suppliers, in favor of sustainable progress based on common goals, is essential."