When the propane system is ATEX, Frascold is there
Two case studies towards sustainable innovation
All the challenges and opportunities of propane, told through two solutions born from the partnership between Frascold, Emicon and Enerblue.
Sustainability and safety are two key factors guiding Frascold daily in the development of innovative and high-performance ATEX solutions with low GWP.
When the refrigeration, air conditioning and heat pump system uses propane, Frascold is considered a reference point by sector-based operators, with its specific ranges of semi-hermetic screw and piston compressors. Designed in strict compliance with the rules laid down by European Directive ATEX 2014/34/EU, they are certified for use in potentially explosive areas, even in the presence of highly flammable gas, such as R290. Frascold, with its technology based on natural refrigerants, promotes more responsible choices, thus confirming its role as an ambassador for sustainability.
Challenges and opportunities for propane
From the Montreal Protocol to the Kigali Amendment to the Green Deal for the phase-down of fluorinated gases, there was a need to find alternatives, such as hydrocarbons, ammonia, CO2 or water, that would not only guarantee a low GWP but also a limited overall environmental impact, whilst ensuring the same energy efficiency and safety. In this case, propane has a low impact on climate change and excellent thermodynamic properties. The presence of market players such as Frascold, with their extensive experience and technical knowledge of risks, has made it possible to introduce technologically advanced systems and components capable of making the use of hydrocarbons safe, propane included, even in large systems, thus solving any critical system problems such as high pressures. Propane is a class 3 gas due to its high flammability, but it includes countless benefits, such as:
zero ODS;
zero toxicity;
a GWP of 3;
a performance that rivals traditional HFCs and HCFCs in most applications.
Two valuable partnership
The two partnerships of EMICON and ENERBLUE with Frascold are extremely valuable. The latter, with unparalleled, extensive expertise on products, technologies, systems and refrigerants, is renowned on the market for the quality of its technological solutions, capable of fulfilling even the most complex design requirements. In particular, it was one of the first manufacturers to offer a complete range of ATEX-certified compressors for use with hydrocarbons.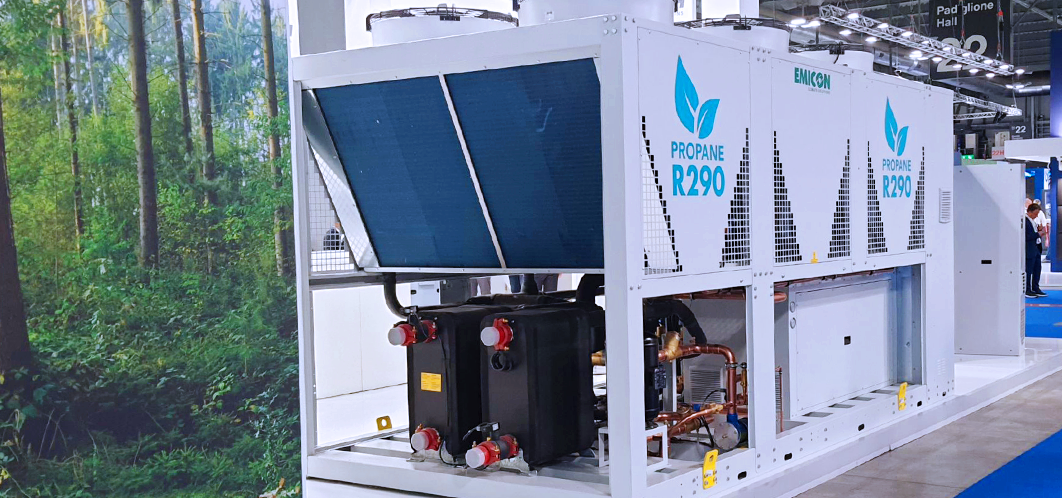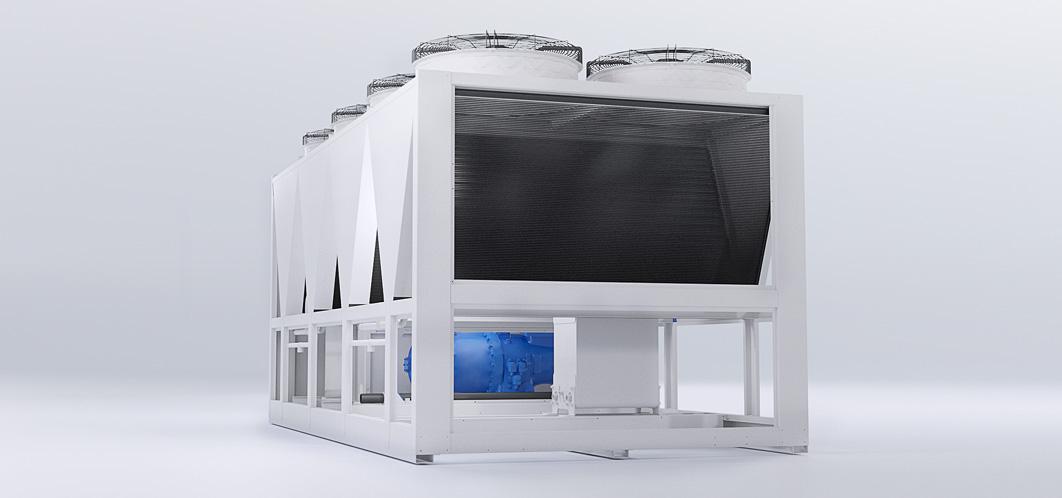 EMICON and Frascold team up for sustainable technology solutions
EMICON Climate Solutions – a company specialised in the design and production of air conditioning solutions for industrial environments, technological areas, commercial and residential buildings – premiered, at the MCE, the innovative multi-purpose 4-pipe propane system featuring Frascold's MAGNETIC series screw compressor, a guaranteeing minimal noise and energy efficiency. The EMICON solution, resulting from need for a well-known Hard Discount chain to improve the carbon footprint of its stores, is a heat pump, capable of producing hot and cold water simultaneously and independently (not alternating), featuring full inverter screw compressors, for a thermal output of up to 650 kW. This technological excellence is the result of EMICON's extensive experience and continual investment in the Research & Development of dedicated HC solutions.
Roberto Bernabei, International Key Account Manager for Emicon, says, "EMICON teamed up with Frascold, with whom we have a long-standing partnership, both for its high-level technical support, which has enabled us to enhance every system choice, and for the performance features of the MAGNETIC series of semi-hermetic compact screw compressors, the heart of our system". He concludes, "Being able to exchange ideas and partner with a specialist and pioneer in the sector, such as Frascold, not only significantly simplifies the legally required risk analysis, but also means guaranteeing high standards of efficiency and reliability on both product and application".
Enerblue inverter & Frascold screw compressors: a winning combination
Enerblue creates green solutions for a cleaner world and is one of the first companies to specialise in the production of chillers and heat pumps with R744 and R290 natural refrigerant for air heating, air conditioning and industrial processes. A strategic choice which has led the company to develop a broad product portfolio, ideal for fulfilling the demand of more advanced markets, like the ones in German and Northern Europe.
Simonluca Tessarin, Chief Executive Officer for ENERBLUE states, "The common thread we share with Frascold is the commitment towards sustainability which is showcased in the development of natural refrigerant systems, thanks to Frascold's top-quality compressors, with their signature low noise and efficiency with partial loads." He continues, "The close synergy between the Enerblue and Frascold teams, sharing their know-how and technical expertise, has made it possible to fine tune the combination of the inverter and the CX ATEX series of screw compressors, by testing the solution in the Enerblue laboratory, which is certified for testing with flammable refrigerant." He concludes by saying, "The result is Silver, a range consisting of 11 sizes of chillers with high energy-efficiency compressors, already ATEX certified, offering our customers a significant benefit for risk assessment."
Livio Calabrese, Frascold's Sales Director, in highlighting the importance of the partnership between EMICON and ENERBLUE, comments, "The introduction of increasingly stringent regulations and standards on safety and energy efficiency, and the growing focus on the climate impact of each new solution, make it crucial to choose the right refrigerant". He concludes by saying, "Frascold realised the potential early on and, therefore, invested in research and development of solutions that comply with the stringent Directive 2014/34/EU. Frascold is a valuable ally when the propane system is ATEX."